In Fairytale Land the focus is on the dwarves. Apparently dwarves come from eggs. They do not have normal lives and they do not love. However, a fairy named Nova accidentally dropped some fairy dust on an egg that ended up hatching 'Dreamy.' (They receive their names when they first hold their mining pickaxe for the mines.)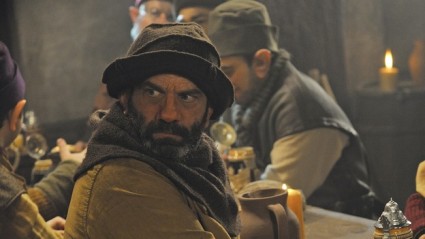 And of course the other dwarves followed…Doc, Bashful, Happy, Sleepy Sneezy, Dopey and Stealthy (who we previously saw get killed).
Because of the fairy dust, Dreamy just can't shake the feeling of love. And when he meets Nova, they fall in love and plan to run off together. But when Dreamy is leaving to meet with her, the Blue Fairy tells him that Nova has a bright future and wants to become a fairy godmother, but if she runs off with him she will lose her wings. So Dreamy tells Nova they cannot be together because dwarves cannot love.
Dreamy returns to the mines and goes to work with his pickaxe, working so hard it breaks. When he is handed a new one, it renames him 'Grumpy.'
Meanwhile in Storybrooke Grumpy's alter ego is Leroy, the town drunk. Mary Margaret asks him to help sell candles for the nuns, to which he replied resounding no and called her the town harlot. However, Leroy meets the Sister Astrid and falls for her, making it his goal to sell all of the candles so the nuns aren't evicted from their building.
Leroy tells Astrid he sold all of the candles when in fact he hadn't and he desperately tries to sell his boat to Mr. Gold to let the nuns stay just one more month. But Mr. Gold refuses and Astrid discovers his lie. In a final attempt, Leroy knocks out the power to the Miner's Festival and everyone buys up the candles! Leroy saves the day for the nuns and Astrid is filled with Joy! It really is too cute. I just love Astrid and Leroy. (As well as Nova and Dreamy/Grumpy!)
Meanwhile, Emma investigates the disappearance of Kathryn. They find her luggage still in her trunk, but no sign of her. Ultimately they look into her phone records and find that David was the last one to call her. In the end, David is taken into custody as the only plausible suspect in her disappearance.
Certainly not the richest episode when it comes to backstory and current mysteries. But I did love the relationship of Nova and Dreamy, as well as Astrid and Leroy. They are too cute! And Nova is such a fun little pixie personality! I definitely hope to see more of them!
In Storybrooke, I continue finding myself wondering when it'll pick up. There wasn't much for me in this episode. Yes, Kathryn has disappeared, but for some reason I'm not being drawn into being too concerned. I want to know what happened to her, yes. But I'm not necessarily dwelling on it. I'm still wondering what ever happen to August, aka the "stranger"?!
What did you think? Did you just love the little love story of Nova/Dreamy and Astrid/Leroy? Or did you think it was just some filler? What are your thoughts on Storybrooke? Is it keeping you drawn in, or are you finding yourself needing more? Leave your comments!
Related Stories