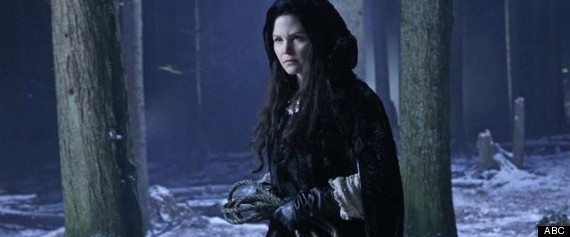 Last week we were led into the backstory of Little Red Riding Hood and had the shocking discovery that Red, herself, was actually the Big Bad Wolf that everyone feared. Must say, I loved that twist. It also helps that I'm a huge fan of Red! In Storybrooke, the search for Kathryn continued and at the end a jewelry box was found with a heart in it and Mary Margaret's fingerprints on the evidence.
In Storybrooke, Emma believes Mary Margaret is innocent, but must go through the motions and appear unbiased. Meanwhile, the evidence continues to pile up with Emma finding a knife hidden in Mary Margaret's room and no apparent signs of a break-in. At this point Emma must advise her to get a lawyer. And oddly enough, Mr. Gold comes to the rescue.
David even begins to question Mary Margaret, which just breaks her. When trying to retrieve memories from his blackouts he actually has flash to Fairytale Land, but he can't seem to separate them.
Henry is on a mission to help Mary Margaret. He believes his mom, Regina, is to blame. He finds her town keys (the keys she used to get into David and Kathryn's home without anyone knowing) and shows Emma. She doesn't believe him until they actually find the one that opens Mary Margaret's home. Uh-oh! Thank goodness!
Emma still has to play it coy because Regina always finds a way to beat her. In the end, a key is left in Mary Margaret's cell and she flees the prison.
In Fairytale Land, we're back to Snow White. She took the potion from Mr. Gold and no longer remembers Prince James. However, the potion took her love and she is bitter and mean. She takes a lot of it out on the dwarves, so they call Jiminy Cricket for an intervention. The intervention doesn't lead Snow to remember her love for James, but ignites her thirst for revenge against the Queen. She sets out to kill her.
James is still frantically in search of Snow, with Red by his side. At one point, King George's guards are hot on their trail and Red transforms into the wolf to give James time to escape. Yep, I still love her.
Snow finds the Queen and her entourage and is prepared to shoot her with an arrow. But James jumps in the way and takes the arrow. He kisses her and, unlike the first attempt, she remembers her love for him and all the memories come flooding back. Queue King George's guards…they arrive and take him away, leaving Snow broken again.
Snow returns to the dwarves and replaces the mug she broke, saying it's the only thing she broke that she can actually replace. Aww…all is forgiven! But in the end we see Rumpelstiltskin making a potion with Snow's hair that begins to glow. He sets it on his shelf above a sign of a heart. Did he just bottle love, the elusive potion he had not yet mastered? I just love all the scenes with good ol' Rumpel!
A very good episode in both worlds! Storybrooke finally has me curious and is following through week to week. Hopefully this continues! And Fairytale Land is as awesome as ever. Red and Rumpel are two of my faves, so having them intertwined with cray-cray Snow and James' pursuit of her this week was just some bonus.
Still waiting to hear more on the stranger, but my appetite is being quenched with the Kathryn mystery. I take it the Kathryn really is dead since the DNA came back. I wasn't so sure, but the sheriff was killed after all. So really, no one is safe.
So, what did you think? Did you love seeing some crazy Snow? What are your thoughts on the Storybrooke mysteries? Leave your thoughts and comments!
Related Stories