The buzz has been building for the fall finale of Once. Who is going to die? And do we finally find out who Sheriff Graham's fairytale alter ego is? Yes, both are revealed.
After catching Sheriff Graham sneaking out of Mayor Regina's house for a little rendezvous, Emma doesn't really want to talk to him or be around him. But Graham pursues her and actually kisses her! This kiss ignites a burst of memories for Graham, memories of the woods and a wolf with red and black eyes. We then learn that Sheriff Graham is…THE HUNTSMAN!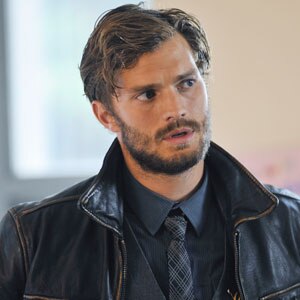 Yes, he is in fact the Huntsman. He is the one sent to kill Snow White and bring the Evil Queen her heart. In Fairytale Land, Snow mourns the death of her father and the queen pretends to grieve, but secretly begins to plot the demise of Snow. We're given a little tidbit that there is a reason why the queen is seeking 'revenge.' However, that reason is withheld from us.
Cue the Huntsman. After his kills, he gives thanks to the animal for its life. Wolves raised him, and so the wolf with red and black eyes guides him. He also has compassion. But he can also turn and slaughter people if they threaten the wolves. The queen summons him and demands he bring Snow's heart to her.
The Huntsman goes out and intends to complete the task, but is overcome when Snow gives him a letter to pass on to the queen. The letter asks the queen to have compassion on the people of the kingdom and to stop seeking revenge. The Huntsman cannot kill Snow and sends her out into the woods. He returns to the queen with a stag's heart, which she quickly realizes. Furious, she rips his heart from his chest (it's a glowing heart and the Huntsman is still alive). He no longer can feel and she has complete control over him.
Meanwhile in Storybrooke, Graham is putting the pieces together after kissing Emma. He goes to Henry and they decide he must be the Huntsman from the fairytale book. While trying to convince Emma of his revelation, they both see the wolf and follow it. They come to a mausoleum and enter it, with Graham believing his heart to be inside.
While searching the mausoleum, Regina shows up. She confronts the two and blames Emma for trying to steal people from her. But Emma suggests that maybe they are fleeing from Regina on their own accord, to which a physical fight breaks out. Graham and Emma leave, so Regina enters the mausoleum. And of course there's a secret chamber beneath the coffin where she is keeping her collection of hearts.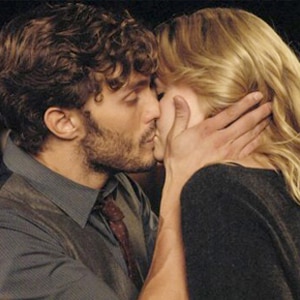 Graham and Emma finally get cozy with one another. They kiss again, Graham receives more memories and knows without a doubt that the two worlds and two lives exist. Meanwhile, Regina locates his heart and crushes it in her fist. Graham falls to the ground and is presumed dead. Yes, that did actually happen. I heard the rumors that a death was coming, but I didn't really actually think they would knock out Sheriff Graham, especially with his budding romance with Emma. I'm deeply saddened by this turn of events and hope this isn't the last of him!
Loved the episode! It had great build-up and just enough unpredictability. I like that Sheriff Graham has planted the seed in Mary Margaret that they cannot remember meeting anyone for the first time. Yeah, I'd say that's pretty strange! I also love any random Rumpelstiltskin appearance. He wasn't really key to this week's plot, but Mr. Gold was out in the woods…gardening…in a suit. I have a feeling there's more to that, as well.
I really want to know why the Evil Queen is seeking out revenge on Snow White. Why did she kill her husband/Snow's father? I thought it was greed and such, but she specifically said 'revenge.' I'm also wondering who else has their heart locked up by Regina. It seems to me that she could just go around and take everybody's heart, but I don't believe she does.
Anyway, what did you think? What's your reaction to Sheriff Graham's backstory and apparent death? Any little tidbits that we missed? Leave a comment!
Related Stories