To start the show, we find out how the 'steal' twist will work… After a coach decides which artist is the winner of their battle round, the other 3 coaches can push their button to 'steal' that artist for themselves, giving the artist another shot and also allowing a coach who missed out on snagging them for their team in the blind auditions. If more than 1 coach tries to steal an artist, the decision then lies with the artist once again on which coach they like to have a 2nd chance with.
They also introduce the coaches and who they have teamed up with to help mentor their team of artists. Adam Levine has brought on 9-time Grammy award winning R and B superstar Mary J. Blige. Blake Shelton chose 3-time Grammy award winning Micheal Buble for his advisor. CeeLo brought in Rob Thomas, the Grammy award winning lead singer of Matchbox 20… And Christina brings to her team the lead singer of the 5-time Grammy award winning band Green Day, Billie Joe Armstrong.
——————————————————————————————————————-
The 1 st battle comes from team Blake… 22 year old Casey Muessigman and 35 year old Terry McDermott. 
During auditions, Terry sang 'Baba O'Riley (Teenage Wasteland)', turning 3 of the 4 coaches around and letting him able to pick Blake as his coach… Casey sang 'Sweet Home Alabama', but only got 2 coaches to push their buttons and also chose Blake, sticking to his genre of music. My pick without seeing the battle or song choice would be Terry… He seemed more technically solid with his voice, and more comfortable on stage. Blake chose 'Carry on Wayward Son' by Kansas as their battle song. Seems like a good balance for the 2, a good rock ballad, but also could have a country appeal to it as well. 
During their rehearsals and one-on-one's with Blake and Michael, Casey seems confident (borderline too confident, IMO) while Terry seems humble but driven for this win. As the battle begins, Casey's voice seems to carry over Terry's while they are singing together, but individually Terry seems to own the song like its just another day for him and Casey almost over sings it for me? Xtina loved it, CeeLo agrees and Adam was impressed by both. Blake believes Terry knows his voice better and chooses Terry as the winner.
Next up is from team Adam… 22 year old Bryan Keith and 24 year old Collin McLoughlin. 
Bryan sang 'It Will Rain' turning all 4 chairs for his audition, while Collin sang 'Wild World' and only turning 3 of the 4 coaches chairs… With both artists choosing Adam for their coach. 1st impression of this match up, I feel more drawn to Collin. Both auditions were absolutely stellar, but I like the raw, natural tones to Collin's voice. Adam choose 'Santeria' by Sublime for their battle round, and after seeing the rehearsals, this should be a pretty even matchup. They both have strong points and were given some advice to excel them to the win, it will depend on who better applies that advice. After seeing the battle, I've changed my own mind… I think Bryan is the clear winner. For me, Collin sang the song almost twangy? Bryan was smooth, relaxed and did not over sing his parts. Blake gave them both praise, but told Adam he thought he'd choose Collin for the win if it were up to him. Christina felt Collin was a little rushed and said she liked Bryan more, and CeeLo agrees with Christina. For Adam, he chose the winner by how he felt who interpreted the song the best, and he chose Bryan!
Then, out of nowhere… Blake and CeeLo push their button to steal him! What!??! This surprised me… I loved his original audition, but was NOT impressed by him in the battle round. Blake reminds Collin he would have chose him to be the winner of the battle round, and that CeeLo chose Bryan. CeeLo points out that he did turn for him during the blind audition and also states that the song he just heard him sing did not do him justice and believes he could showcase him better with a different song… After commercial break, Collin gets a 2nd chance and chooses Blake!
CeeLo's 1st battle is up next… 26 year old Diego Val and 24 year old JR Aquino.
YouTube sensation JR sang 'Just the Way You Are' for his blind audition getting 3 coaches to push their buttons, while Diego belted out his rendition of 'Animal' only getting CeeLo's to turn his chair around, but also having Cristina declare she's hopeful to maybe steal him later in the competition! 1st impression of this battle leads me to Diego. I remember JR being pitchy, but could have been nerves… I liked Diego's audition and he seemed more comfortable on stage. They will be singing 'Jessie's Girl' by Rick Springfield for their battle round. Such an odd choice, IMO?? After seeing the rehearsals, I'm very nervous for Diego… He seems to be struggling with both the lyrics and melody. That could end up giving JR the edge and/or a false confidence. After the battle, I'm seriously torn… Wow! They both did equally well?
I want to give it to Diego cuz there were a couple moments where JR's voice seemed too soft for the line he was singing, but have to take away some points from Diego just for his capri'd pants! (That has nothing to do with singing but I just could not let that style travesty slide?) Adam gives them both praise and Blake decides if he had to pick someone, it would be JR but seems totally on the fence, and Christina leaned more towards Diego. I almost want CeeLo to pick JR, so one of the other coaches can snag up Diego? After some clear indecision from CeeLo, he declares Diego the winner?
Now for Christina's battle round… 25 year old De'Borah and 32 year old Nelly's Echo.
Nelly's Echo sung 'Ain't No Sushine', enticing 2 coaches to push their buttons, and De'Borah also turned 2 coaches around with her version do 'Hey, Soul Sister'. What a match up with these 2 artists… My 1st thought is definitely De'Borah! Her attitude and charisma demanded the stage, although Nelly's Echo audition was good as well, just didn't stand out as much for me. So, Christina chooses 'Message In a Bottle' by Police for these 2 to battle it out on. Definitely see this more of a strength for Nelly's Echo, so I'm instictively a little worried for De'Borah? After watching rehearsals, I'm still terribly nervous for De'Borah… She was an early fav for me and she really seemed to struggle with this song. Just feel if she were to be herself, she could sell the song to anyone. (So much for trying to stay unbiased? Lol) Ultimately, this was a good matchup, but I did not like Nelly's Echo in the very beginning, his high pitched voice was not as pleasant as I would like.
In 2nd half of the song, I really enjoyed both of them equally, but would still think De'Borah came out the victor! CeeLo states De'Borah the clear winner, Blake agrees. Adam gives them both props… But points out to De'Borah how pleased he is that they are a part of her journey being the person she is and tells her to leave the rest behind (regarding how she was treated initially from her church and such when coming out as gay). Christina addresses both artists with their strengths and weaknesses, and chooses my girl, De'Borah!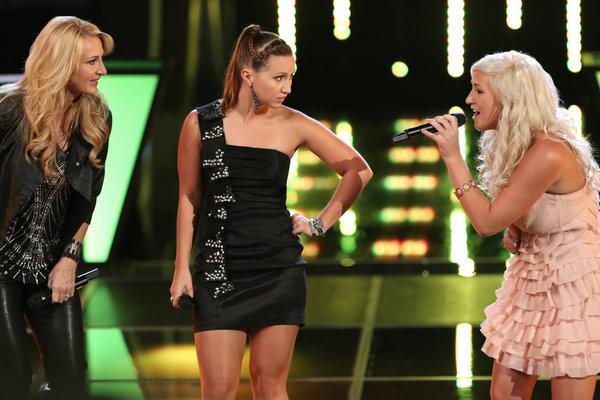 Blake 2nd battle round is next… Mother/daughter duo 2Steel Girls and 18 year old Gracia Harrison.
Gracia was the 1st ever yodeler on The Voice, singing 'I Wanna Be a Cowboy's Sweetheart' for her audition, getting 3 coaches to push their buttons, while 2Steel Girls belted out 'Before He Cheats' compelling only 2 coaches to turn around. I'm not the biggest country fan so this one is a little harder for me to give opinion on, but would give 2Steel Girls the advantage over Gracia, just because I feel 2 can be better than 1 in this competition, making their appeal slightly higher? Blake chooses a country song to suit both of their strengths, 'Sin Wagon' by the Dixie Chicks.
After seeing rehearsals, Gracia is seriously the underdog… She seems so timid and unsure of herself. This battle round so far has been the weakest, probably because I don't really know the song as well. Gracia surprised me as she stepped it up some and looked absolutely darling in that cute little pink dress. But still think I'm leaning more towards 2Steel Girls. Christina really enjoyed the performance, same with CeeLo and Adam. Blake eventually picks Gracia as the winner, stating her confidence was what put her on the top!
CeeLo's next battle is between 27 year old Amanda Brown and 18 year old Trevin Hunte.
Trevin turned 2 of the coaches around singing 'Listen' for his blind audition, while Amanda only enticed CeeLo with her audition singing 'Valerie'. My pick for this matchup would be Trevin, his audition really stands out in my mind, but knowing from the build-up to this battle, I know they both move on as the loser gets stolen by another coach. CeeLo choose a power ballad by Mariah Carey, 'Vision of Love' for their battle song which seems perfect for both of these artists. The rehearsals showed Amanda as the stronger singer, but really feel Trevin has what it takes to win this battle. And what a battle that was!! The whole audience was on their feet, including all 4 judges.
Adam proclaims that it doesn't matter who wins, he's committed to steal whoever is left standing… Blake has nothing negative to say to either and Christina proclaims "Hands down, best performance we've had in the battle rounds thus far!" CeeLo says he underestimated Amanda, and gives both artists praise, but ultimately chooses Trevin. Now for the steal, all 3 race to push their button 1st. They all give a valiant effort to convince Amanda to choose them, and in her decision says she likes to think outside the box sometimes and chooses to join Team Adam for her 2nd chance!!
Another CeeLo battle is next with Cody Belew and the self-proclaimed pop star (in China) DOMO.
During the blind auditions DOMO sang 'Don'tcha', making CeeLo push his button (which he happened to write the song she sang) and Cody sang 'Hard To Handle' and like his battle partner, was only able to turn CeeLo's chair. Both of these 2 have big personalities, but I was not impressed at all with DOMO in her audition, so my 1st impression pick will go to Cody. Their battle round song will be 'Telephone' by Lady Gaga (ironically, DOMO compared herself to 'Lady Gaga in china' during her audition). I think it's seems obvious that DOMO is all about showcasing herself as a total package, and that CeeLo mentions that as a concern during the rehearsals.
CeeLo put it well when he said "This will be a battle between the singer that wants to show he can dance and the dancer that wants to show she can sing". They seem to work well together so I'm actually excited to see this matchup! During the battle, I seriously had a hard time understanding DOMO, and thought Cody gave a much more solid performance and DOMO over sung/played her part. All the judges liked both artists and Christina thinks she would choose DOMO. After voicing his disappointment over the 2 focusing more on choreographing the number rather than selling their performance, he chose Cody as the winner!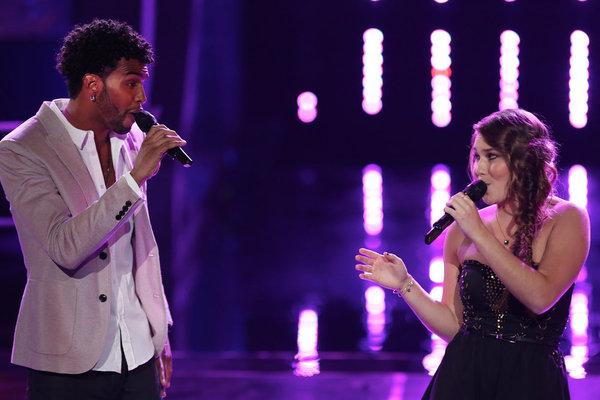 Next up is from Team Christina…24 year old Aquile and 15 year old Natalie Hernandez.
Aquile gave a very memorable (to me) audition singing 'Your Song' convincing 3 coaches to push their buttons and Natalie sang 'White Horse' also turning 3 chairs with her audition. I really loved Aquile, but Natalie's voice was very pure. I'd like to see Aquile move forward personally, but would not be disappointed if Natalie won (also hoping if she does, someone will steal Aquille). Christina chose 'You Give Me Something' by James Morrison for them to battle it out on.
The rehearsals show Aquile being very strong and confident… With Natalie more subdued and unsure. I actually think this could be a very pretty duet if they work together? After watching the whole battle, they are definitely different in styles, and while Natalie surprised me by doing much better than I thought she would, I still feel Aquile was the stronger competitor. Coaches seem to be in agreement over Natalie being so good for being so young but in the end, Christina names Aquile the winner of this battle!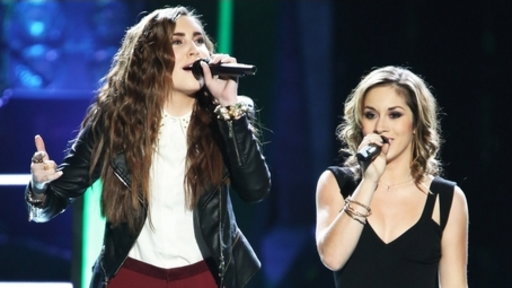 Another battle for Christina paired high school student Celica Westbrook with ex-gymnast Lisa Scinta.
In the blind auditions, Celica sang 'A Thousand Years' and Lisa sang 'Teenage Dream'. They battled with the song 'My Life Would Suck Without You' by Kelly Clarkson. We were only shown about 5 seconds of there battle round, so really can't comment much. Christina chose Celica as the winner of this battle.
Next up was Team Blake, pairing Charlie Rey with Rudy Parris.
For their blind audition, Charlie sang 'Home' and Rudy gave his rendition of 'Every Breath You Take'… And for their battle round, Blake choose 'Bad Day' by Daniel Powter. Once again, we are only shown a clip from their battle round so I can't comment (I thought they were supposed to focus more on the battle rounds so why are they only giving summaries of some??), but Blake chose Rudy as the winner!
Team Adam is the next to battle it out, pairing up 20 year old Caitlin Michele against 17 year old Melanie Martinez.
Both of these artists had good blind auditions, with Melanie singing 'Toxic' while playing her guitar and playing the tambourine with her feet and had 3 coaches pushing their buttons. Caitlin Michele gave a haunting performance of 'Cosmic Love', turning 2 coaches chairs. I like Melanie's style best, and thought from the auditions, she was most memorable so off 1st impression, I'd pick her. Adam chose the song 'Lights' by Ellie Goulding for them to sing in the battle round. After seeing their rehearsal sessions, the audience is left feeling a bit flat I think. Especially on the last day of rehearsal, neither seemed to really be feeling the song.
But they really brought it when they finally battled it out. Personally, I'm very torn, they are both such different singers and they individually did amazing. Blake is right in tune with my thoughts, as well as Christina and CeeLo. Adam himself has a hard time deciding, that he needs a full commercial break to do so! After they come back, Adam chooses Melanie. Then, here comes the predicable steal… CeeLo and Blake both decide they'd like Caitlin to join their team… But Caitlin chooses her 2nd chance coach to be CeeLo!
——————————————————————————————————————-
This was a great start to the battle rounds!! Personally, I really had fun writing this, as I wrote it as I watched it… did not look at spoilers or comments before I watched, so it was fun to see how my opinions measured up with the coaches & reading comments in the forum after I finished. I love the steal option, and feel only one was maybe not the best choice based on the battle round alone, but taking into consideration of the audition as well, I could justify it. I have seen since I finished the actual recap, a lot of people favored the Trevin/Amanda battle, which was definitely a good match up, but I think my favorite was Diego/JR singing 'Jessie's Girl', the song choice really surprised me & maybe I like it so much because it was from my era growing up. I'm really looking forward to this coming weeks' battles and still plan on doing a 'Best Of' recap of those artists that didn't get picked!! The hubby goes back to work this week so I will have my 'me' time back!!! YAY!
Related Stories