In flashback Fairytale Land, King George's knights attack Snow White and Charming's camp in the forest. Charming sends Snow to the cabin where his mother is waiting for him, however she is captured by a knight that turns out to be Sir Lancelot. At the palace the king offers her a drink and tells her how he just wants Charming to feel the pain of not being able to have a child. Snow realizes the drink was tainted and a curse has been placed upon her so that she cannot conceive.
Sir Lancelot feels guilty and offers to help Snow because knights have been sent to attack Charming at his mother's cabin. When they arrive it is too late, his mother was shot by a poison arrow. They seek out the magical Lake Nostic, but it has dried up since Charming had killed the Lady of the Lake. However, Lancelot finds a small amount of water in a shell…enough for only one person.
Charming's mother takes a sip but it does nothing. To honor his mother, Lancelot marries Charming and Snow while she watches. The two are united as one and sip from a chalice. Charming's mother then passes. He finds her medallion that predicts a baby's gender and uses it on Snow. It previously did not spin at all but suddenly does now, proving she will conceive. Snow realizes Ruth had not drunk the water but had Lancelot save it for her in order to break the curse.
In Storybrooke, Henry is determined to get in on the action. He hunts down Jefferson who tells him he can't help. Kind-hearted Henry insists that Jefferson reunite with his daughter Paige (Grace in Fairytale Land) so she doesn't feel lost and abandoned. Jefferson also tells Henry about Regina's vault in the cemetery. So Henry fools Regina into meeting him for lunch while he steals her keys and discovers the vault in the cemetery. In the vault he opens a box that contains poisonous snakes, but Charming shows up and saves him. In the end, Jefferson reunites with his daughter and Charming begins sword training with Henry using wooden swords. However, at the very end we see King George watching Charming and Henry from a distance.
Meanwhile in current Fairytale Land, Emma begins talking to Cora in the pit. However, Snow wakes up and immediately intervenes saying Cora cannot be trusted. Emma sees no reason to not at least talk to her. A leader, who turns out to be Sir Lancelot, then summons Snow and Emma from the pit. He immediately realizes she's Snow and frees them. Snow and Lancelot discuss trying to find a portal, but Snow is very careful due to Cora's presence nearby. He agrees to let them go and try to find a portal as long as Mulan, his best warrior, joins them.
The trio set out and at one point Aurora jumps Snow, but Emma intervenes. The scuffle wakens the ogres and Emma is attacked but saved by Snow's swift archery. Aurora puts her anger to rest and the women reach Snow's disheveled palace. Mulan and Aurora guard the gate while Snow and Emma are inside determining whether the wardrobe that transported Emma in the first place can be used again. Lancelot shows up but Snow is quick to realize it's not truly him. He transforms into Cora and apparently Lancelot had been dead for some time. Cora has been trying to find a way to get to her daughter, Regina, and they have led her straight to the wardrobe.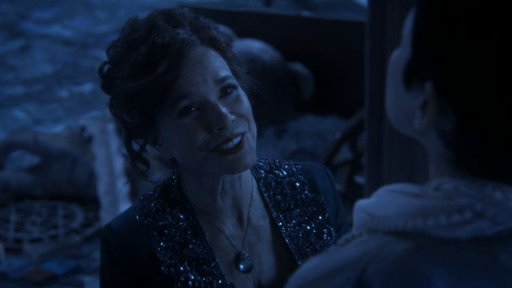 Cora attacks the two women but Emma sets the wardrobe on fire. Cora magically tries to aim the fire at Emma but Mulan intervenes and Cora vanishes from the room. Upon discovering Lancelot has died, Mulan suggests Snow become the leader of the refugees. Emma realizes that she destroyed the only portal in order to save Henry, just as Snow had sacrificed in order to save Emma. The women leave the palace and Cora reappears, scooping the ashes of the wardrobe into a bottle.
Wow, this episode contained A LOT! I'm really intrigued by Cora. All during the first season I knew Regina was the Evil Queen and essentially "the villain." But now I really think we've got that great antagonist that we can all honestly hate. And I love it. I also still love having the current Fairytale World. I feel like it makes the whole show so much more involved and connected. The Sir Lancelot storyline was give-or-take for me. Good to see him, but I didn't grow attached. Also, I'm wondering if this is the wrap-up of Jefferson. He doesn't seem to be needed anymore at this point since his hat is destroyed, so it's good to see he gets a happy wrap-up with his daughter. But the reappearance of King George/Albert Spencer brings the question as to whether he's still miffed about Charming and his happiness. He might still be seeking vengeance.
Anyway, what did you think? Like the episode? Was there simply too much going on in this one? Looking forward to more evil Cora? Leave your comments!
Related Stories