A lot has happened in the past two episodes of Once, both in Fairytale Land and Storybrooke. It would seem that Storybrooke's plotline is finally gathering some steam, so let's hope that it continues onward!
Two weeks ago we were introduced to Jefferson (Mad Hatter) in Fairytale Land. Apparently in the past he had done some things he wasn't proud of, but was trying to move forward and provide for his daughter. And boy, did he love his daughter. He would do anything for her.
Unfortunately, the Evil Queen needed him. And we all know she always gets what she wants. Using the love he has for his daughter, she finally talks him into taking her to Wonderland to retrieve something from the Queen of Hearts. To get there he does a clever little hat trick that opens a door to the mysterious world. Once there, he and the Queen retrieve a heart, which the Queen restores back to her father, Henry.
Jefferson realizes the Queen is going back with her father, and only the number of people that enter the door can leave through it. The Queen is extra vicious when she tells him that if he truly loved his daughter, he wouldn't have left her. Funny because she used the love he had for his daughter to get him to agree. Yep, it made my heart sink and want to cry with him.
Anyway, the Queen of Hearts captures him and wants him to use his hat to open the portal, even going the extra step to beheading him (which didn't actually kill him). He can't get the hat to work, so his punishment is making hats in isolation until one finally works. And thus, he became the Mad Hatter.
Meanwhile in Storybrooke, Mary Margaret escapes from her cell and Emma goes to look for her so she doesn't get into any more trouble. While searching, she is abducted by a man who lives alone and by the woods. Apparently he remembers Fairytale Land, knows about the curse and wants Emma to make a hat that will take them back. Very interesting that yet another character remembers Fairytale Land. Very interesting indeed. (But he says it's his curse to remember because it just makes it harder that he still can't be with his daughter, as she's with another family in Storybrooke.)
It turns out that Mary Margaret is also being held captive. She and Emma team up and push him out of the window. All they see laying on the ground is the hat that Emma had made.
In the most recent episode of Once, we finally learn the origins of why the Queen hates Snow so much. She was the complete opposite of who she is now when she was young. However, her mother was evil and actually resembled the Queen we now know. And apparently her mother made some deals of her own along the way to bring their family good fortune. Basically, like mother like daughter.
Young Regina was actually in love with their stable boy, Daniel. However, they kept it secret because her mother would not approve. One day Regina saves a young girl who is trapped on a running wild horse. The girl turns out to be Snow White, the daughter of widower King Leopold, and he asks Regina to marry him. Her mother agrees to the arrangement.
Regina is so distraught over the situation and decides to run away with Daniel. However, Snow sees them kissing and Regina is forced to explain her love for Daniel to her. Snow understands and agrees not to tell anyone. However, Cora works her manipulation and draws the information out of Snow. On the night they are set to leave, Cora yanks out Daniel's heart. Regina must then go through with the wedding. While being fitted in her gown she learns of Snow's apparent betrayal that led to Daniel's death and vows to avenge him.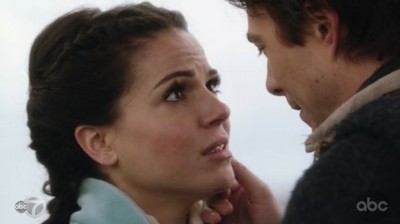 In Storybrooke, we learn that Mr. Gold was in on setting up Mary Margaret up for murder. (We previously discovered he was in on planting the key in her cell, too). Regina visits Mary Margaret in jail who is in near hysterical tears pleading for her help. Regina coldly responds that she knows her innocence but refuses to help nonetheless, saying that she does deserve what she's in for. I must say, it was a very emotional scene and I thought both women were phenomenal in it!
The stranger (August) teams up with Emma to help her investigate and they find the shovel used to bury the heart in Regina's shed. However, after getting the warrant, she discovers it has been replaced. Emma also discovers Mr. Glass placed a bug on the vase he gave her. So she's been played all along. But at the end, Ruby screams and runs from behind the diner…to which we discover the beaten up, but still alive, Kathryn.
I must say these two episodes were really great leading into the short hiatus. Sure, Mad Hatter's episode wasn't really helpful in moving the plotlines forward, but it was rich in building the heart of the story. I absolutely love his character and hope to see more of him.
The last episode certainly gained momentum for Storybrooke. Surely Mary Margaret will be freed, but now we have to learn what exactly happened to Kathryn and where the heck did that buried heart come from? And I still want a lot more to come out about August. These tidbits are simply not enough! I also love the slow build of Emma possibly realizing the real possibility of the connection between the storybook and Storybrooke.
Anyway, what did you think? Did you love these last two episodes as much as I did? Where do you think it'll pick up once we return from this short hiatus? Leave your comments!
Related Stories