Nomination Day in the Big Brother House! Click on 'Continue Reading' to get all the goods on what went on yesterday in the house, then be sure to come to the FORUM to discuss with us!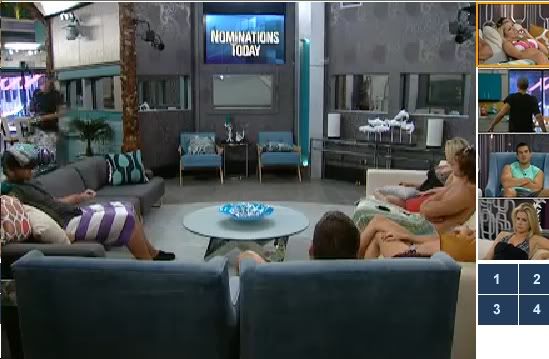 Brendon talked to everyone one at a time in the HOH. He apologized to Britney for what he had said about Nick and she accepted his apology. He didn't say that he wasn't putting her up, but he did say that she's a threat in the next HOH comp because it will probably be a quiz. She left the HOH with no hard feelings between them (that were spoken anyway). He talked to Lane about nominations and Lane told him that he needs Britney or Ragan to go, but he doesn't want to be the one to put them up. When he talked to Hayden, he said that he'll put Britney on the block just because it's fair to give her a shot at POV to save herself. By the end of the conversation, Brendon said he's going to nominate Lane and Britney, but isn't sure who would be the replacement nominee if veto is used. Hayden and Brendon also agreed that they won't tell Enzo everything they talk about in regards to the game.
The smaller table was introduced to the houseguests today making the kitchen area appear to be HUGE. The Have Nots also received the food that America voted for them: Eggplant and Escargot.
There was another saboteur message, but we didn't get to hear the exact wording of it. It had something to do with a male/female pair still being in the house. It doesn't appear that any of the houseguests believe it.
Brendon talked to Matt and promised to keep him off the block and probably won't put him up if the veto is used. Brendon said that he'll protect Matt more than he'd protect Ragan, because Matt has been fighting harder.
Brendon got called to the DR and on his way, he talked to Britney and told her that she and Lane were going on the block. During that time, Big Brother called Brendon's name two more times. He went in and came back out shortly and hinted that Big Brother reminded him that he can't tell the Houseguests that they will be nominated. He again asked Britney to go to the HOH and she let him know that if she stays off the block this week, she'll return the favor next week and that if she's not on the block, she'll fight hard for the veto and do whatever Brendon wants her to do with it. He told her that she may have changed his mind about who to nominate.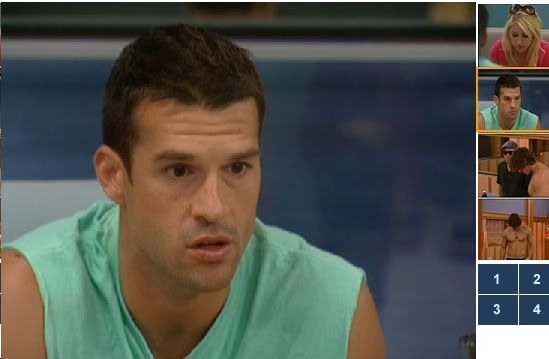 After more than two hours of blacked out feeds, we found out that Brendon nominated Lane and Ragan.
At around 8:45pm BBT, the names were drawn for the veto competition. The houseguests who will be playing are Brendon, Lane, Ragan, Enzo, Hayden, and Kathy. Britney and Matt will have to sit this one out.

Brigade Meeting
Check back tomorrow to see if the Veto Competition was played and which Houseguest is the new Power of Veto holder.
Related Stories