Another day in the Big Brother house started out hopeful for Kristen, but unfortunately for her, ended with tones of desperation. Continue reading for your daily recap and don't forget our very own live feed update threads!…
When she and Hayden went to bed last night, these deals had already been set in place:

According to Brendon and Rachel, they have an alliance with Hayden and Kristen until they have to turn on each other…final 5 or 6. (The Couples Alliance)
The deal between Britney and Kristen is that Kristen will have her back for as long as she's in the house–no matter what–and if Britney is in the final two, she gets Kristen's vote, unless she's up against Hayden.
The deal between Hayden and Britney (that they are going to tell Brendon and Rachel anyway) is that he's guaranteeing her safety for two weeks.
Britney knows everything that's going on between Brendon/Rachel/Hayden/Kristen, but Brendon and Rachel don't know that she knows everything.
Britney approached Kristen this morning and told her that Rachel was a little worried about being able to trust Kristen, so she said that she would talk to Rachel again to be sure that Kathy was definitely going to be the replacement nominee.
But last night in the HOH, after discussing the deal they had just made, Brendon and Rachel decided that it wouldn't help their game to go through with the Couples Alliance. Instead, they were going to offer Hayden another deal. They would keep him safe for one week if he agreed to keep them safe for one week.
Rachel called Britney to the HOH to discuss their hesitations with her and said that she didn't think she could trust Kristen. She wanted Britney to be able to keep the deal with Hayden, but didn't want to risk Kristen staying in the house. Rachel mentioned that a possible replacement nomination could be Lane or possibly Enzo. Because Britney is working closely with Lane and didn't want him to go on the block, she thought that it was better to suggest not using the POV at all. She said that she would break the bad news to Hayden.
However, on her way to talk to him, Britney was called to the Diary Room. A few minutes later, a lockdown was announced which meant that the Veto Meeting would begin shortly. We later heard that Britney asked in the DR if she could talk to Hayden or Kristen before the meeting, but BB wouldn't let her. So, Britney had no choice but to blindside Hayden and Kristen with their disappointing news that the veto would not be used. And blindside them was exactly what she did, because the offer that was discussed between Brendon and Rachel last night was never proposed to Hayden.
From the sounds of it, the Veto Meeting was uneventful. When the feeds came back we saw Kristen and Kathy laying in bed (Yes, I know, shocker!) talking about thinking that the deal was going to go through. Kristen spent the rest of the afternoon laying in bed talking to Hayden, Kathy, Ragan, and Matt who were taking turns listening to her regrets about not winning the HOH or Veto competition.
Thought bubble over Matt's head: "I wonder if she could shit tie-dyed Skittles right now" ~ Ahrean
Britney talked to Kristen and apologized several times, but explained that the plan wasn't going to work out because Rachel didn't guarantee that Kathy would be sitting next to Kristen on the nomination block.
And how about this? I hope Kathy comes out and wins HOH. I can't stand the slug because I think she's useless, but just this one time, I'd love to see her do that. And then when Brenchel come crawling, begging and pleading, she agrees not to put them up and then does it anyway. ~ Grandmamichelf
Meanwhile, in other areas of the house and backyard, there was general chit chat with small amount of game talk peppered in. As you can see, not everyone was sad today.
Enzo: Even the ants in the house backstab you! You can't trust anyone in the house, even the animals.
As the day went on, it seems that we were watching Kristen experience the first step of the Grieving Process:
It's funny how when somebody is leaving, like Kristen right now, they lose their grip on reality. ~ Yellowdog
At one point, she made it to the Bargaining Stage by repeating that she would do anything to stay in the house—eat slop for the rest of the summer, give up taking a shower or brushing her teeth for the summer, give up hot water for the summer, and even shave her head.
Kristen repeated herself to everyone who went to her bedside by telling them that she deserves to be there and that she's a good game player, but didn't get the chance to prove it. Also, that it doesn't feel like it's her time to go yet. (I'd be willing to bet that every houseguest who has ever been in danger of being evicted has had the same thoughts. They are not exclusive to Kristen.)
It's like her reality is completely different from the actual reality. But it happens nearly every time a HG is on the ropes. It's a weird psychological break that happens when they feel cornered. They rationalize it to make themselves look like they are a victim, when in reality, they were trying to victimize others and just simply lost a game. ~ Yellowdog
By early evening, Kristen joined Kathy in the backyard to have a pity party over their cigarettes. (Apparently nicotine is the only way to deal with an impending eviction as we watched Annie in week 1 suddenly become a smoker, too.) Between her [Kathy] smoking and her narcolepsy she has a house fire in her future. ~ Yellowdog
Kristen thought it would be a good idea to roll out of bed and try to campaign for votes. Unfortunately for her, she's talking to members of the Brigade to try to make a deal to stay.
Rachel ended the evening by, of course, talking about herself and the $1000 bottles of tequila that men have bought for her and talking down to Brendon when he mentions that he waits in line to get into a club, which led to yet another Brendon/Rachel bickerfest. He told her that she knows he hates it when she talks about Vegas all the time and can't understand why she keeps doing something that he dislikes. This was how she responded: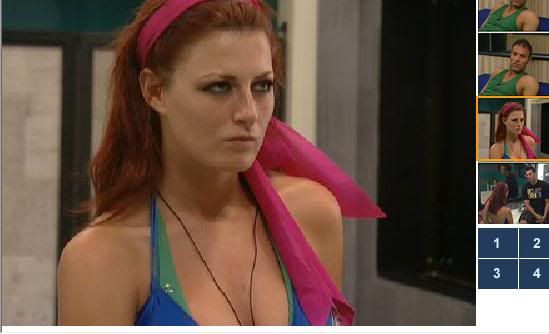 In case you're worried about the status of the "Power Couple". They kissed and made up.
Here's to hoping that tomorrow we see some action in the house when Kristen experiences the Anger Stage of the Grieving Process. Keep your fingers crossed, but don't hold your breath…
Thanks to our live feed updaters, like always, and our screencappers! Most importantly, thanks to Kristin for helping the Yak and providing today's recap!
Related Stories