Veto Meeting Today! Did you miss it?  Well, here is your recap, all in one short read!  Click 'Continue Reading' to get all caught up, then come to the FORUM to discuss with us!
The Houseguests were woken up throughout the night and early morning with messages from the saboteur.

Here's a compilation of the messages as I remember:
Houseguests, wake up, wake up
Houseguests, expect the unexpected
Houseguests, am I keeping you up?
Houseguests, your time is running out
Houseguests, eviction really isn't that bad
Houseguests, are you having nightmares about me?
Houseguests, is insomnia really that bad?
Houseguests, I suggest you say goodbye tonight
Houseguests, who do you trust in tomorrow's competition ?
(Thank you, Ahrean!)
All of the houseguests had some level of doubt as to whether or not there would be a competition today, which there wasn't, so no one was surprised to find out that it was yet another saboteur lie.
At the Veto Meeting, Ragan removed himself from the nomination block and Brendon replaced him with Matt.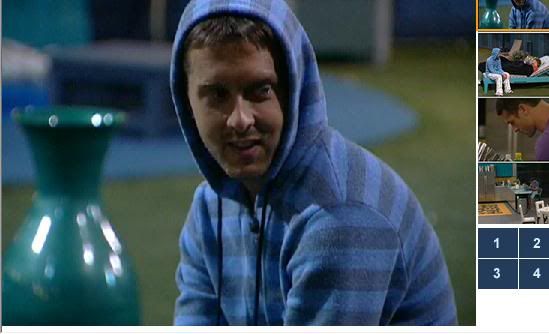 The diabolical supergenius is proud of himself!
Shortly after the meeting, Matt planted the seed that there may be another power in the house that someone could use. The rest of the day was spent contemplating the possibility of another power and discussing their "power moves" for the next few weeks. At one point, Matt asked Ragan who he would vote to keep if Hayden and Lane were on the block. Ragan said that he would vote to keep Lane. Matt said, "Good. Keep remembering that." It makes one wonder if Matt is considering putting Hayden on the block when he uses his Diamond Power of Veto on Thursday to save himself. Could Matt be thinking about making a power move in the game? Guess we'll have to wait and see what plan Matt has brewing.

There were three in the bed and the little one said…
Just a fun walk down memory lane regarding the Ragan/Rachel fight: Funniest part of that was when he said: "You're a disgusting, vile human being" and she said "You're a worse disgusting, worse vile human being" ~ Ahrean
Related Stories