First of all, sorry there was no update for Friday. The Yak slipped up and got lazy! Oh well, we're back for another day of updates in the Big Brother house. Continue to read on and don't forget to follow our updates every day during the rest of the season!
After Rachel nominated Kristen & Hayden for eviction on Friday, a new days rolls around in the BB house for Veto and more strategy. Yesterday, the houseguests were given a giant pinball machine to practice on for today's Veto competition. Ragan speculated early in the morning that America might be choosing a new Saboteur and wondered if Andrew will be coming back. Kristen and Hayden were discussing their regrets about cuddling in the bedroom with Andrew, as they think more and more than they will be separated this week.
No he's [Matt] a canker sore on the butt cheeks of life. ~ Grandmamichelf
It seemed as if Brendon and Rachel had a little tiff when he told her that she should talk a little more respectful to him. Of course, she didn't realize how she talked to him and thought he was being unfair in the accusation. Rachel later straight up told Kathy that if she uses the POV on Kristen, Rachel will take it as a personal attack. Basically scaring Kathy into not using it.
Players for Veto were chosen early in the morning. Looks like Enzo, Britney, Rachel, Hayden, Kristen, and Ragan were chosen for the Veto. They seem to be convinced that the Unitard is in play this week…they've been given no indication one way or the other. It doesn't seem like very much conversation worth reporting was happening most of the afternoon….go figure that in the Big Brother house this summer.
Later, Matt speculated that America might be voting on America's player this week since they are not having any houseguests eating only food that America should have voted for! Around 240pm BBT, the POV competition had started. And we have an exclusive pic of the backyard!
Feeds came back and we find Britney has won POV! Hayden "won" solitary confinement in the Have-not room for 24 hours with a campsite toilet. Kristen won a unitard. Enzo won a TV. Rachel won $5000. We also found out that Big Brother moved Brendon's stuff out of the HOH room apparently. Hayden is given slop, french bread and water in solitary confinement. (more pictures to follow below)
If any of these twat waffles seriously consider themselves "Allstar material" then they're sadly mistaken. ~ Sphinx
Tonight, they celebrated Matt's birthday party. He is lying about his age and it really isn't his birthday. Not sure how this benefits his game play, but he went ahead and pulled it off anyways. Otherwise, not much has really been happening. Same old small talk conversations, surprise there. Only thing worth reporting is Kathy/Kristen trying to talk about how they might be able to get Britney to use the veto. Kristen might try to make a deal with her, but who knows if she'll agree to it…BB needed to let him [Brendon] play today and make one of the prizes his balls so he can regain his manhood. ~Kristin
And Saturday ended with Kristen offering Britney a deal for Veto…This is the deal Kristen offered to Britney: If she uses the veto to save her, Britney will have her back 100%. If Britney is HOH next week, she can put Kristen up either as a nom or replacement nom. If Kristen wins the veto in the future, she'll take Britney off the block even if she's on the block against Hayden. They talked about Kathy being a possible replacement nom, but Britney said that she doesn't think Rachel will put her up. She said she doesn't know for sure, but that's what she's thinking. Kristen further more went on to promise her and Hayden's vote in the Jury house if they are both there and Britney is in the Final 2. If the F2 consists of Britney & Hayden, Britney does NOT expect Kristen's vote, otherwise, she'll get it.
Thanks to our updaters and aztekpm & Kristin for the screencaps for today's recap!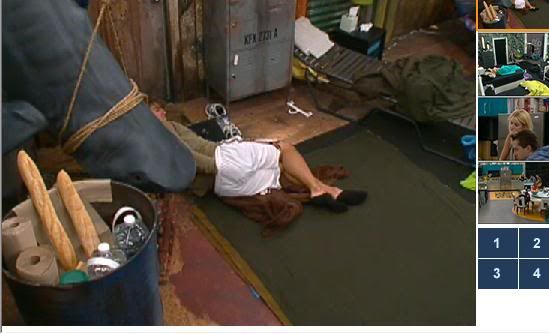 Related Stories