Big, Big Day in the Big Brother House! Miss any of the Live Feeds yesterday? Click 'Continue Reading' to get all caught up on the daily BB activities, then join us in the FORUM to discuss!
With Lane and Ragan on the block and Brendon, Kathy, Hayden, and Enzo also playing in the Veto Competition, Ragan beat them all out to win the Power of Veto.
Shortly after the competition, Brendon received a Pandora's Box offer. He as offered the chance to leave the house (we don't know for how long), so he accepted the offer. In exchange for that, Rachel got to come back into the house for 24 hours. Not as a player, but she got the opportunity to ask the houseguests questions and talk with them about the game.

She's baaaack!
Lane asked Ragan if he was going to talk to Rachel and he told him that he has no reason to, so he was going to avoid her. Shortly after that, Rachel asked Britney if she wanted a cookie and Britney told her that she's a Have Not, so she can't have one. Rachel snidely commented that she would ask Ragan if he wanted one. She approached Ragan in the backyard, obviously looking for a confrontation, and she received exactly what she wanted. After several minutes of a heated exchange between Rachel and Ragan, which turned extremely personal, he went into the house leaving Rachel standing alone staring at the door. She finally went inside, talked to Enzo for a bit, and headed into the Diary Room. After several minutes, she came out and apologized to Ragan.
Rachel talked to all of the houseguests and is clearly pushing for Matt to be the replacement nominee. If the houseguests are able to talk to Brendon before the Veto Meeting, we'll see if they are able to convince Brendon to put Matt on the block when Ragan saves himself. If so, we may see Matt use the Diamond Power of Veto to save himself and nominate another houseguest.
Rachel went to Enzo told him that Britney told her that Brendon said that he thinks Enzo is the saboteur and also that Britney thinks Enzo is the saboteur (you may have to read the preceding sentence several times for it to make sense).

The look on Enzo's face is probably the same as yours as you read that sentence.
Enzo calmly asked Britney about it and Britney said it wasn't true at all and that, in fact, Britney told Rachel that she thought she was the saboteur. Rachel went to the backyard and started a loud confrontation with Britney. Rachel said that during her conversation with Britney Enzo's name was mentioned as the possible saboteur as well as Lane's name. Britney told them exactly what she had told Rachel and explained that she never said that Enzo or Lane was the saboteur. It finally ended with Rachel saying "Fine. Let everyone believe who they want." After Rachel went into the house, Enzo said that he thinks Rachel is the saboteur was brought back into the house specifically to mess with everyone's game.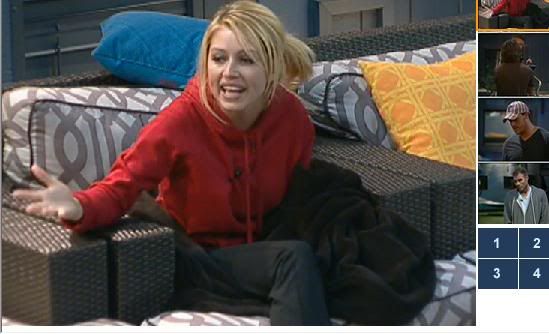 Britney defending herself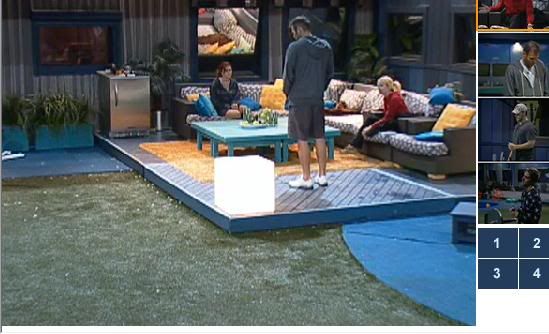 Rachel, Britney, and Enzo during the confrontation
At this point, it's unclear how long Brendon will be gone from the house and it's unknown whether or not Rachel will get a chance to talk to him before (or during) his return. There are many unanswered questions this week, so keep checking back for updates!
Related Stories