One day closer to eviction this week…what will this day bring? Continue reading for your recap and don't forget to check out our forums for all your entertainment needs.
Wake-up call today in the BB house was around 830am BBT. Once the houseguests woke up, general chit-chat and small talk ensued. Brendon and Lane had an "out of the house" conversation, talking about what they see/look for in girls, etc. As the morning went on, Brendon and Rachel came to the realization that it's possible Rachel could be leaving the Big Brother house instead of Brendon, even though everyone else is making seem like Brendon will be evicted. In that case, Brendon's made it his goal to try and piss more people off in the next 2 days in hopes of being evicted over her. He plans on calling a house meeting tomorrow, Evel Dick style, to make a point with the goal of trying to make everyone want to vote him out.
If Brendon is going to try to get them to hate him "ED style" then I'm thinking the closest he'll get is banging one of Andrew's leftover plastic spoons on a Dixie cup while whispering "I don't mean to bother any of you, but could you please get up? It's wake up time, if you don't mind." ~ Kristin
Enzo & Hayden have jumped the fence and are now thinking about keeping Rachel and evicting Brendon. Meanwhile, Ragan is trying to keep things they way they were originally planned – getting rid of Rachel. Meanwhile, Matt & Ragan were up in the HOH room discussing the possibility that Rachel could very well be the new Saboteur. Matt keep questioning why it seems someone went through his suitcase because clothes weren't kept in the place he initially put them. Talk around the house about Rachel's HOH letter having a code phrase in there about who to target next also surfaced around the house this afternoon. Ragan thinks that "I love you more than hunting sharks in oil free water" somehow means target Hayden/Kristen.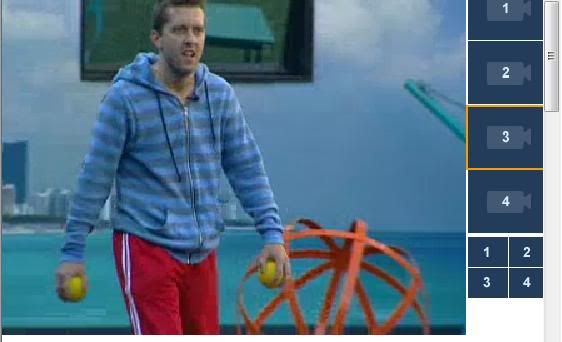 The day continues with Brendon and Rachel discussing the possibility that Rachel might actually still be the one leaving. Brendon wants to continue to act mean towards people to make them want to evict him instead. He encouraged her to go be social with the houseguests so they think about keeping her instead. Finally, around 530pm BBT, the houseguests, namely Lane, Matt, Hayden, and Enzo, decided to STOP being boring and play some impromptu-pseudo dodgeball in the backyard. And I'm afraid that's about all the excitement to report as we enter "nighttime" in the Big Brother House.
Brendon tried to convince Lane to vote to keep Rachel, but Lane did not want to be the sole vote. Brendon told him that he has 3 other votes and that he is in love and wants to leave so Rachel can play the game for herself. Lane went back to the Brigade to report the plea. Brendon also tried to work on Kathy and Enzo, asking them to keep Rachel because if he stays and wins HOH, then "shit will hit the fan." Enzo and Kathy couldn't hold back their laughter as they heard this from him. Oh I am on the edge of my seat with Brendon! He needs some anger management STAT! First his flip flop… now nominating people if he wins HOH? My goodness the drama! ~ TheKdd
In the backyard, Rachel, Ragan, and Britney were talking and Ragan brought to Rachel's attention that she makes life in the BB house so hard. She makes faces, her tone of voice, etc just throws off the vibe and she comes off as a bad sport. It didn't take long to hurt Rachel's feelings before she started crying and went inside. Not long after, Brendon marches out into the yard to yell at Ragan, asking him why he did this to her – to make her last few days even more miserable? He threatened Ragan and Britney – so help them – if he wins HOH on Thursday. The rest of the house isn't falling for it, knowing it's his play to get them to keep Rachel and vote him out instead.
Brendon took to himself after and started thinking out loud (since the DR was not available). He's wondering if he shouldn't have acted that way, wondering why people are ganging up on him and Rachel like this, wondering if they were in the wrong, etc…same stuff him and Rachel have been wondering the whole time they've been on the block. Brendon is making it sound like he just stormed a machine gun nest. ~ Yellowdog
And with that folks, the day ended with the sides of house reiterating the same thing over and over…what will tomorrow bring? Thanks again to our updaters!
Related Stories