Another (boring) day in the Big Brother house. Read our recap below and check out our forums for everything Big Brother!
I think bertablue summed up the day very well:
and supposedly these HGs were all bigtime BB fans… what the hell happened? GIMME SOMETHING, ANYTHING, please ~ bertablue
The day started with Rachel cooking breakfast. Exhilarating, I know.
As always, Kathy lays in bed, longer than everyone in the morning.
Hayden comes in, asks what she's doing, she says she doens't want to get up…..mentions her Sock Monkey is on the floor, she says he must've fell….the Sock Monkey tells us in sign language that it was a suicide attempt….she cuddles the Sock Monkey ~ Ahrean
Finally, Kathy rolls out of bed and sets the tone for the day. It's a Kathy Day where everyone laid around and did very little of anything else all day long.
Kristen wasted no time in jumping back into her campaign to stay in the house. Her first victim, Ragan, talked with her about how the votes will probably turn out on Thursday. He was trying to figure out where Hayden will migrate to with Kristen gone and where Kristen would be if Hayden leaves. Rachel walked in and and all three of them went to the HOH to finish talking. After an extremely wordy lecture, Ragan told them that they should hang out in the backyard (or where ever most of the houseguests are) and just watch to see how the houseguests interact with each other and that may help them figure out where the alliances in the house are. Rachel again reminded Kristen that she doesn't think she can trust her and went on to talk about the other votes in the house. Brendon walked in and, shortly after, Kristen left to go out to the backyard as Ragan suggested. Ragan told Brendon what they had talked about and clearly, he and Rachel thought that the suggestion was meant only for Kristen, because this is how they spent their afternoon: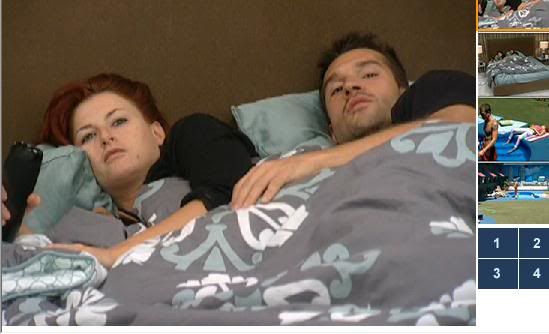 Kristen talked to Brendon alone to remind him that at some point, either Brendon or Rachel will probably be evicted and they are going to need Kristen, not Hayden. Then, in her own way, proposed an alliance with Brendon after Rachel is evicted should Kristen remain in the game. The conversation was short, not-so-sweet, and directly to the point. Later, Brendon relayed the conversation to Rachel, who became outraged that Kristen would make such an offer.
Rachel seems to have become either obsessed or simply overprotective of Britney. She feels the need to constantly know where Britney is at, what she's doing, who she's talking to, etc. It appears as though Britney isn't appreciating the extra attention and has been able to avoid hanging out with Rachel as much as she can. Yesterday she, Brendon, and Rachel agreed to an alliance, but if one is to believe Britney's words in the Diary Room, she has no intention of following through with her end of the deal. They seem to still be #1 on Britney's radar.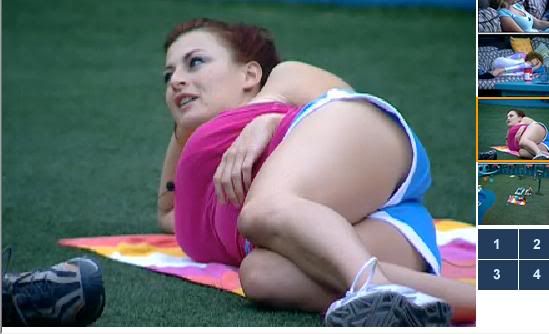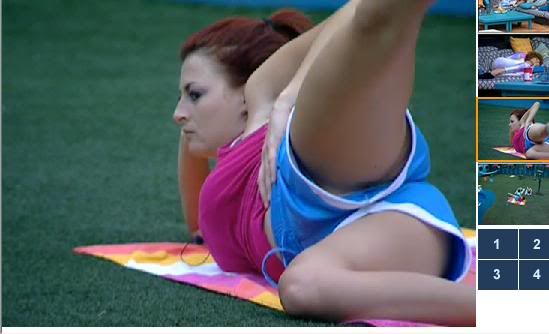 Is Rachel turning into this season's Jun?
As the day went on, Kristen continued campaigning. She is under the assumption that the final vote will be 4-3, but she doesn't know if she'll fall on the winning or losing side of the vote.
Hayden talked to Brendon and Rachel in the HOH and made a deal to throw HOH on Thursday if Brendon would keep him safe. Brendon and Rachel told them about the deal they have with Matt. We'll see how serious Hayden is about the one week deal very soon. If he tells the Brigade about the deal, then we'll know it's not valid. If he keeps it to himself, watch for him to throw the HOH competition.
We can expect to see another full day of campaigning tomorrow and a lot of napping.
The next WBRB will probably be for bedsore check. ~ hevnlee
May your first thought of the day be:
How many of the Hgs will be able to avoid Kristen today???? ~ SassyGal
As always, thanks to our screencappers and Yak updaters, especially Kristin who provided today's Yakdate!
Related Stories