After some real drama in the BB house yesterday, what will today bring? Follow our forums for all updates and everything BB and more! Click 'continue reading' below for your update of all the goings on!
I had a dream last night where I was buying a book about the adventures of Jeff and Jordan. It cost $50 but I got it on sale for 3 cents. That's not a joke, that really happened. ~ Yellowdog
Brendon and Rachel were talking to Kathy and telling her that she's in a great position to win this game. She'll just be kept around as a pawn all the time because she is non-threatening and will end up in the Final 3 somehow. Ragan, on the other hand, is recounting the fight from earlier and thinks that he's really not going to be Brendon's main target – but that Matt is. He thinks Brendon is going to go after Matt, since Matt was the one that really stabbed him in the back.
Matt, Ragan, Britney, and company discuss who the Saboteur is and whether or not America is voting for the "pranks" or sabotage tricks. Britney mentioned that she thinks America voted for the person they like the least (wonder what Ragan wanted to say at that point). Matt thinks that it's more like America's player again and not really a saboteur. They're not sure whether to expect actual physical pranks or not. Matt's thinking they needed to recycle America's player and just give it a different name (little does he really know…). And with that, things wound down as the HG's fell asleep.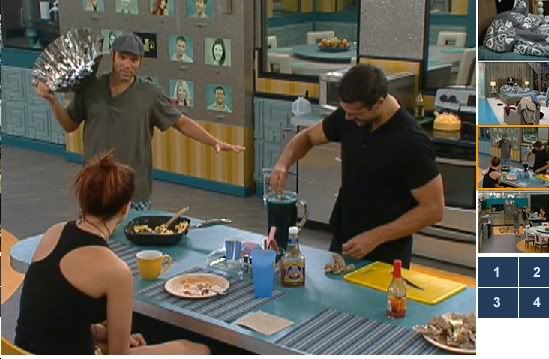 The houseguests woke up around 9am BBT only to have an indoor lockdown called around 10. Kathy speculated that tomorrow's competition may not be a True/False thing – wondering what it might be. Rachel's taking a shower. I hope she's not planning on washing her hair. She needs at least 4 day old dirty hair for it to match up with her clip on hair. ~ Kristin In other news, Enzo is so proud of his "pool tournament" victory yesterday, he's carrying around his prized trophy all over the house.
So I am still waiting for the harder BB that AG [Exec. Producer Allison Grodner] talked about pre-season…unless she has delivered already and the twist is BB is harder for the fans to watch this season ~ SassyGal
Later in the afternoon, the Saboteur struck again. A new Saboteur message riled up the houseguests into thinking that Rachel might have the Coup d'Etat and will save herself and Brendon in a blindside on Thursday. The Saboteur's message mentioned that "true love conquers all" and also made note of a "mystical power." Brendon and Rachel seem to be giddy over the news, while some of the other houseguests wonder why they have been on indoor lockdown all day. Many of them are wondering if this week will be a double eviction.
Feeds went out early this evening in the BB house because they were having a "halfway party" to celebrate getting halfway through the game so far!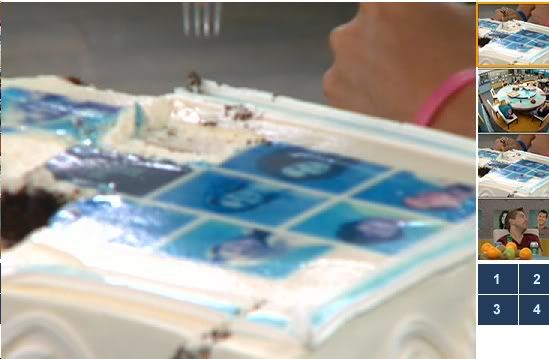 When the feeds come back, we find all the houseguests in good spirits after enjoying a pizza and beer party compliments of Big Brother. Even Kathy got to eat for the hour. They were treated to "Memory Wall Cake" as well, that later, they decided to make a few adjustments and dress up the faces on. Rachel really dressed up for the party in a satin blue dress with very high gold heels.
In describing Rachel's dress: Rach in shiny hooker baby blue ~SassyGal
Ragan was the first Houseguest to leave the party, saying earlier that he did not want to spend time with Brendon and Rachel if at all possible.  He went up alone to the HOH room, and gave the Live Feed watchers a play by play of what was happening downstairs.
The Houseguests continued to play the "Avoid Rachel and Brendon game" the rest of the evening, with all contemplating what to do if Rachel has the power to save herself this week. In the meantime, Rachel and Brendon swapped momentos of one another to remember each other by; Rachel giving Brendon multiple shirts, a beanie baby sprayed with her perfume so it smells like her, and Brendon gave her a hat. Rachel and Brendon still under the impression that it will be Brendon in the jury house first. They also decided to practice for what the HOH Competition might be, going over events in the house, and Rachel practicing dropping a can into a cup. (Like last year's HOH competition.)
Brendon and Rachel are giving each other their shit as if they are moving to separate planets. Rachel gave him the shirt she was wearing when they were on the block together the first time, the shirt she was wearing when they kissed for the first time, a couple of other shirts, and a beanie baby sprayed with something so it smells like her (probably Raid). Brendon gave her a hat. ~Kristin
Matt, Enzo and Lane decide to trim one anothers hair before heading up to the HOH for some game talk. Once finished, Matt joins Hayden in the HOH room to discuss different scenarios on who should be put up next, using the ducks to represent the different Houseguests, hoping they can get Ragan to put up Britney.  Later, Enzo and Hayden decide that they would like to keep Brendon around, and get out either Ragan or Britney next. Enzo would be sexy if he had no voice ~TheArtistFrmlyKnownAs
All the Houseguests, minus Brendon and Rachel then merge to the HOH room for their nightly "Just the Tip" show, while Rachel and Brendon spend their last night together downstairs giving one another back rubs, and a bit of nookie.  Brendon is bitter about not being invited up to the HOH for the games, and Rachel just doesn't understand why they hate her so much. She believes it's because she put up their friends. Hayden enters, and Brendon asks him if it's still him [Brendon] that will be leaving tomorrow. Hayden confirms, saying that is where the house is now (lie) but he will be voting with the house. Hayden tells Rachel that the house thinks she has a power, and is afraid of her for that.
With that, the day ends again. Will Rachel and Brendon find out before tomorrow night who is leaving? Many think so. What do you think? Come to the FORUM to discuss!
Related Stories