The 2nd week of battle rounds were almost as good as the 1st week, we seen some pretty good matchups and some more steals from opposing coaches. I'm getting this out a little later than I planned, seeing as week 3 starts tonight, but better late than never right!! I hope you enjoy these recaps as much as I love writing them!
———————————————————————————————————————————————————–
1st up this week is from team Blake…
21 year old Julio Cesar Castillo vs. 42 year old Terisa Griffin. Julio sang during his audition 'La Bamba' turning 2 of the coaches chairs around and Terisa also wow'd 2 of the coaches with her audition singing 'Someone Like You'. To me, this doesn't seem like that fair of a matchup… Based on their auditions, Terisa seems like the stronger singer and they just seem like they could not be more unlike each other in singing styles. Blake chooses for them to sing 'Conga' by Gloria Estefan, which actually seems like a really good choice to cater to both artist, this could be interesting! During rehearsals, we get to see where both artists can struggle and/or shine with this song…
But still give Terisa the edge, as she seems more confident overall. They put on a great performance for the battle, and feel they came out pretty even in the end. Terisa seems definitely more versatile in range and style than Julio… All the coaches seem somewhat speechless as who Blake should choose… But after the commercial break, he ends up picking Julio for the win! Wow… I'm sincerely shocked! Hoping someone steals Terisa? I'm thinking that is why Blake chose Julio… And yay!! CeeLo steals Terisa for his team!

Next into the battle arena is from team Christina…
24 year old Dez Duron takes on 16 year old Paulina. This was Dez's 2nd time auditioning for The Voice, this time singing 'Sara Smile' and turning 3 chairs this time around, while Paulina sang 'You Make Me Feel' in her audition. Paulina was not featured during the blind auditions so its hard to make a choice, but from what we did see she seemed a bit shaky… Maybe just nervous? I like Dez and being this is 2nd time here, I'd lean towards him for a 1st impression pick? They will sing 'Just The Way You Are' by Bruno Mars for their battle round. After seeing the rehearsals, I'm still rooting for Dez.
He wants it, but kinda seems intimidated by Paulina, but I'm not 100% sold on her. We see so many artists nowadays with the odd or different tones in their voices, and hers just seemed more forced than natural from what we have seen so far? Personally, probably my least favorite battle round so far. Thought the song did nothing for either, especially Paulina. I think the round should go to Paulina, she owned her parts much better I thought and I heard a lot of pitchiness during his parts. CeeLo, Adam and Blake all think Dez was the winner of this battle… As well as Christina!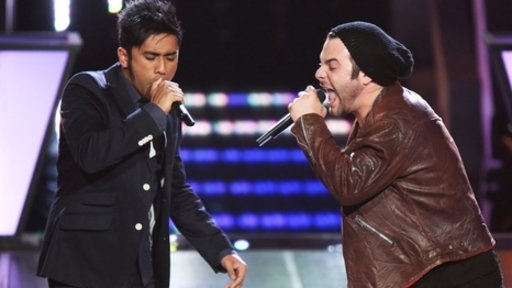 Team Adam is next in the battle ring…
24 year old Benji and 26 year old Sam James. Sam sang 'Imagine' for his audition having only Adam push his button for him, while Benji turned 2 chairs around singing 'Knocking on Heavens Door'. 1st thoughts are this looks to be a good matchup. I loved Benji, and although Sam wasn't as memorable, I did like him as well. I'm leaning more towards Benji at the moment.  Adam chose for them to since 'You Give Love a Bad Name' by Bon Jovi for their battle song.
During auditions, Sam really sounds a lot like Adam to me, and I LOVE that!! Benji seems ok, but now liking Sam's voice much more. They both give it their all in the battle round… But definitely think Sam took this one overall! Blake says he'd give the round to Benji, Christina and CeeLo agree (I might add here that Christina also said she heard some of Adam in Sam's voice as well!). Surprisingly, Adam chooses Sam as the winner, saying that he heard a bit of weakness in part of his battle, and Sam seemed stronger with his own voice.

Next up, from team CeeLo…
31 year old Nicholas David vs. 30 year old Todd Kessler. For his audition, Todd sang 'Maggie Mae' getting CeeLo to turn for him and Nicholas sang his own arrangement of 'Stand By Me'. Off the bat, I'm already rooting for Nicholas… I loved his audition, and remember him well. Todd was not featured during the audition rounds so that is stacked against him for a 1st impression pick. CeeLo picked their battle song to be 'She's Gone' by Hall and Oates… Definitely feel this could be a good song for both of them. After we see how the rehearsals went, you can see these 2 really have become friends. They talk about how they don't look at it as competing with each other but enjoying the experience together.
Rob Thomas and CeeLo help bring it back into perspective to them, reminding them it IS a competition. I'm also more excited to see Nicholas sing this song… This is his battle to lose in my opinion. After the battle, I'm a little more torn? They both did equally well in my opinion. Todd seems more current (in looks & style) but I just can't deny Nicholas' passion and true natural talent! All 3 coaches liked them both and none of them picked a winner to help CeeLo choose, so his decision is tough. In the end, CeeLo chooses Nicholas David the victor!


Team Blake takes the ring next…
With 23 year old Lelia Broussard going up against 32 year old Suzanna Choffel. Lelia sang 'We Can Work It Out' tuning Blake's chair around, and Suzanna belted out 'Landslide' prompting 2 coaches to push their buttons. Lelia wasn't featured during the blind auditions  and personally loved Suzanna's rendition on the Heart song she sang so have to base my 1st impression on that.
Blake chose 'Dog Days Are Over' for these 2 'gypsy souls' to sing in their battle round. The rehearsals didn't change my mind much either… Not sure if this song is the best for them judging from rehearsals? The battle round was better than I expected, but felt Lelia was sometimes flat and Suzanna's performance is definitely more free flowing (does that make sense, lol)… Blake ends up choosing Suzanna as the winner of this battle!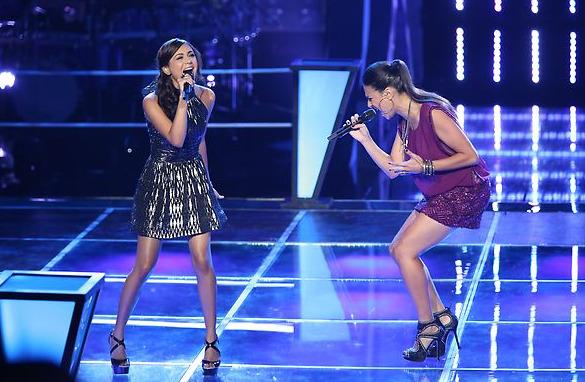 Up next we have team Christina…
17 year old Joselyn Rivera will take on 19 year old Sylvia Yacoub. Sylvia convinced 3 coaches to push their buttons during her blind audition singing 'Only Girl (In the World)' while Jocelyn belted out 'Stronger (What Doesn't Kill You)' turning 2 chairs. My pick on these 2 would be Sylvia… I remember Jocelyn more, but felt her blind audition was a bit pitchy and shaky. Sylvia had a pretty solid audition (from what I remember?). Christina chose 'Best Thing I Never Had' by Beyonce for their battle round song. During the auditions, Jocelyn seems very shy and intimidated by Sylvia's powerhouse voice, so she will have to own her parts in order to win this battle.
And wow!! What a battle round for these 2! I feel they both shined in their performances, and now leaning more towards Jocelyn… I really wanted to see Sylvia take the coaches advice and show some vulnerability, which I didn't see in her performance. CeeLo liked both and couldn't pick one over the other, Adam would choose Jocelyn, as well as Blake. Then CeeLo adds he would pick Sylvia after some thought. But ultimately Christina picks Sylvia as the winner! Then surprise surprise!! Adam and Blake decide they'd like to steal Jocelyn for their team!so now Jocelyn gets to choose who she'd like to be her 2nd chance coach, and is happy to join team Adam!!!
1st up on day 2 this last week is from team Blake…
25 year old Liz Davis will battle 18 year old Nicole Johnson this round. Liz belted out the country tune 'Here For the Party' hoping to turn Blake's chair, which she did, while Nicole Sang 'Mr. Know It All' turning 2 chairs around as well. Both seem like very strong singers but I don't have a a clear preference for either off the bat, but I'll say Nicole for now, just off of song choice from their blind auditions.
Blake gives them 'Baggage Claim' by Miranda Lambert (his wife, no pressure there girls!) to sing for their battle round. The rehearsals look really good, although at 1st Nicole feels like the underdog, but in the end it does not look that way. I feel a hard decision coming up for Blake! Even I am torn! 1st, both these girls look FABULOUS!! I thought at 1st, Nicole had this in the bag, but in the end, Liz really brought it home as well… Tough tough decision for Blake, who chooses Liz!
Team Adam enters the battle arena next…
Putting 17 year olds Alessandra Guercio against Kayla Nevarez. Alessandra sang 'The Climb' for her blind audition turning 2 coaches chairs, while Kayla turned 3 chairs singing 'American Boy'. I'm going with Kayla on this one from 1st impression… I liked both but Alessandra's audition wasn't as strong, in my opinion. They will be singing 'Wide Awake' by Katy Perry for their battle round. I sincerely hope they do this song justice as this one is very near and dear to my heart for personal reasons… So please don't ruin it, k?!
The auditions look good and seems like this will be a very good battle round! They both seems so pitchy to me in during the battle, not my favorite AT ALL. Maybe it's just their age and experience…but I'd still choose Kayla as the victor here. The other 3 coaches seems on the fence although CeeLo declares Alessandra the winner for him. Adam ultimately chooses Kayla as the winner of the battle! And after a little speech about having confidence and going against the norm some, Christina steals her for her team! Great steal Christina!
In a brief recap,
we learn that CeeLo's team had a battle putting Ben Taub against Mycle Wastman singing 'Too Close' by Alex Clare.
Ben was not a featured artist during the battle rounds, so we really haven't seen much of him, but he sang 'Feeling Good' for his audition. Mycle sang 'Lets Stay Together' for his blind audition and I remember him well, I really liked him and was happy to see him get 3 coaches to push their buttons for him. CeeLo ends up choosing Mycle as the winner.
Also, team Adam paired 15 year old with
Adanna Duru with 28 year old Michelle Brooks-Thompson, and they sang 'Crazy In Love' by Beyonce in their battle round.
Adanna was another artist that wasn't featured during the blind auditions, but we did see a quick clip of her audition sing 'Edge of Glory' and Michelle belted out 'Proud Mary' in her blind audition prompting 3 of the coaches to push their buttons. Adam tells Adanna how talented she is for 15 and reminds her this is just the beginning for her, but gives the win to Michelle.
In the same brief recap,
we see team Christina battle round of duo Beat Frequency against Laura Vivas…
And they duke it out over 'Poker Face' by Lady Gaga. The husband/wife duo of Beat Frequency gave it their all in the blind auditions singing 'E.T' only getting Christina to push her button, while the other coaches called them 'the best duo so far', I totally disagreed. Laura was not a featured artist during the blind auditions, but we learned that she sang 'Whadaya Want From Me' and unlike all the other unfeatured artists we've seen so far in this brief recap, Laura comes out on top in this round.
Last but not least we have team CeeLo…
Matching up 23 year old Emily Earle with 19 year old Mackenzie Bourg. Emily sang 'Ring of Fire' for her blind audition only turning CeeLo's chair, while Mackenzie gave a stellar audition singing 'Pumped Up Kicks' also only turning CeeLo's chair. I'm going with Mackenzie on this one from 1st impression, because I thoroughly enjoyed his audition and Emily was not a featured performance so it's hard to really judge by the 5 seconds they give us? CeeLo chose 'Good Time' by Owl City ft. Carly Rae Jepsen, which seems like a perfect song for these 2!
The auditions show them both in a good light overall, but show that Mackenzie might struggle a bit by having to step outside his comfort zone a little more because he has to perform solo, meaning without an instrument! 100% think Mackenzie took this battle… Emily did good, she only seemed to lack a little confidence compared to Mackenzie but he really had a 'good time' with this song, from what I seen! Adam thought both were good, but chose Emily the winner for him, same for Blake… But Christina was thinking the same as me
CeeLo has a hard time choosing, but chooses (in my opinion) wisely by picking Mackenzie as the winner.
———————————————————————————————————————————————————–
After 4 nights of battle rounds, the competition is still strong with many battles to come. Adam still has 3 battles coming up but has no more steal openings left, Blake has 2 battles left to decide and 1 steal slot open, CeeLo only has 2 battles left as well but no steal openings, while Christina has 1 steal opening and 2 battles to finish out her team for the Knock-Out rounds! I'm really looking forward to seeing how the rest of these battle rounds play out & for the Knock-Out rounds to begin!! Until next time….
Related Stories