And another month goes by, another Yakdate in the books. Continue reading to see how the month of August starts up in the Big Brother house!
Apparently, Kathy works out a lot at home. I'm assuming that means she actually rolls over every once in a while on the outside. ~ Knucklehead
Kristen and Britney continued their chat into the night about the possibility of Britney saving Kristen from the block, as Kristen essentially made a deal to play every angle for Britney from here on out. Keep her in the house, never put her on the block. vote for her in the F2, AND go on the block as a pawn if Britney wins HOH and targets someone else. Britney seems to be going for it, will think about it and we'll see how it plays out during the ceremony later. Britney and Rachel had a chat in the HOH room and Britney did NOT mention her conversation with Kristen at all, which might be a good sign for Kristen…The houseguests continue speculating that America's Player might come into play this week.
No, Rachel is simply thinking with Brenda's dick. She's playing the fame game. ~ Sphinx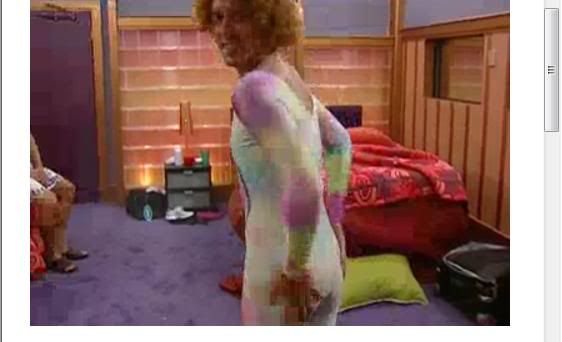 Big Brother woke the houseguests up around 10am BBT. Nothing more than idle chit chat happening around the house. Although it seems that before Kristen got to wear the unitard, Matt decided to give it a try and we have pictures to prove it!
It's about time "The Meow Meow" is neutered and euthanized. ~ Knucklehead
The POV ceremony has been confirmed for tomorrow, Monday. The winners from the Luxury competition (Brendon, Rachel, Enzo, Hayden) got to watch their movie today, The Other Guys, starring Samuel L. Jackson, Dwayne Johnson, Michael Keaton, Will Ferrell, Mark Wahlberg and more.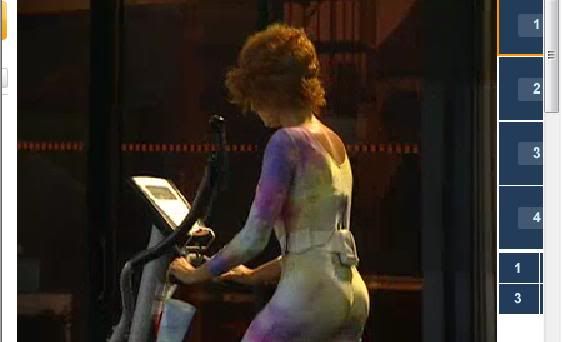 The houseguests have continued to speak about how they are the greatest season in the Big Brother books. Oh, little do they know…Hayden worked to convince Britney to use the POV and not to be afraid of Brendon and Rachel – to make up her own mind. He is promising her that he and Kristen would have her back in the end. Hayden thinks offering a deal to Brendon and Rachel for 2 week safety might be their best option. This way Britney can use the POV and Kathy goes up as replacement and the house decides who goes home (hoping Brendon/Rachel think it'll be Kristen and then Kathy really ends up going). Britney stresses that if she's going to go through with any deal involving saving either Hayden or Kristen, she has to be sure that Kathy will be replacement and that Brendon/Rachel are offered a deal because they are desperate for deals. She thinks that the deal would be better coming from Hayden instead of Kristen. It doesn't seem like Kristen or Hayden plan on keeping the deal but will offer it nonetheless.
And we leave you with storytime: Little Orphan Annie sits outside her broken down apartment/used to be a motel room and wonders where she went wrong. Daddy Warbucks left all his money to his lover, Cha Cha McGee, who then threw her out of the mansion and she was left to her own devices. Despondent, she turned to drugs and hooking, found a pimp named Right On who was born at Woodstock and forced her to wear a tie-dyed unitard. Last night Right On was killed during a driveby shooting and poor Little Orphan Annie is now all alone…..to wonder………will the sun ever come out again? ~ Ahrean