Kind of a lazy day in the Big Brother House today. Missed any of the Live Feeds today? Get all caught up in one short read! Click 'Continue Reading' to see what happened today in the house, and when you're done, don't forget to come chat with us about it all, or read the Live Feed Updates in the FORUM! Registration is free!
Rachel leaves and Brendon returns to the Big Brother House
Rachel woke up Lane early in the day to talk to him one more time before she left. She confirmed, again, that she thinks Matt needs to go on the block. She then talked to Kathy and told her that Big Brother told her that she would have to convey her message to Brendon without writing it down. So, she used pretzels to spell out who she thought should go on the block when Ragan uses the veto to save himself. It's unknown if Big Brother allowed the message to stay.

A less than flattering view of Kathy
About an hour after Rachel left, Brendon was back in the house. When the houseguests told him that Rachel had been in the house, he didn't seem surprised. What he did when he left the house is unclear, because the feeds were blocked when Brendon talked about it. The only things we know for sure is that he got alcohol, he had a chef, and he got a massage. Britney talked to him and explained what had happened last night between her and Rachel. Before leaving the HOH, Brendon told her that he'll keep her off the block this week, but she needs to win HOH and keep him off the block next week.

Britney looking relaxed after her conversation with Brendon
The houseguests got another saboteur message that said something about a competition tomorrow and changing the course of the game. Some of the houseguests believe that it will happen and are trying to guess the kind of competition that it will be, but others don't believe the message.
At this point, we still don't know for sure who Brendon will be putting on the block as the replacement nominee. It looks like it will either be Britney or Matt.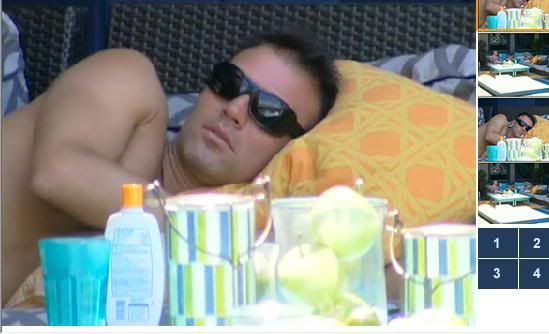 Typical Enzo
Check back tomorrow to find out if there really is another competition and who Brendon decides is his replacement nominee.